Profile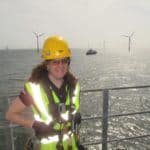 Clare Causier
Chatting to students is great fun :)
Curriculum Vitae
Education:

Sheffield High School, University of Cambridge

Qualifications:

Masters in Engineering

Work History:

Call Centre, Data Entry at Department for Work & Pensions, Siemens (Engineering)

Current Job:

Service Engineer (Blades)

Employer:
About Me

Enthusiastic adopted Geordie

Read more

I'm keen on the outdoors – climbing mountains, camping and exploring.  But that takes a while when you live in the city so during the week I tend to cycle a bit and do the local parkrun on Saturday mornings.  I live in Gateshead which is basically Newcastle but south of the river Tyne (shhh don't tell the locals).

As an engineer I know that climate change is already changing not just the world's living conditions but also how I use energy.  I try to consider energy use in my choices, for instance we're insulating our house and my husband is mad keen on bikes and cycles to work everyday (he looks after railway bridges for a living).  I'm a bit less keen so normally drive, but take public transport about once a week.

People are often surprised when they learn I've been deaf all my life – as with hearing aids its not that noticeable.  It did mean that I never really got into music but I'm an avid listener to Radio4 when I'm on my own.

My Work

Engineer fixing stuff which is not working properly

Read more

Engineers often design stuff or make sure its built properly.  My work comes next, keeping stuff which is doing its job working well.  Maintenance is often seen as not as exciting – you're not in control of how something works or making it beautiful, but its really important to look after our customers and keep the great machines that turn wind in to electricity working as efficiently as possible for as long as possible as that means we can all have greener power cheaper.

I look after the blades of wind turbines, the part which catch the wind and start the process of capturing the energy.  They are humungous fibreglass canoes, gracefully shaped for the best aerodynamics.  My first priority with any damage is making sure that the blade is fit to keep turning.  The tips of the blades can reach 185 miles per hour, that's around the speed of a aircraft on take-off so I need to be sure that its still strong enough to operate.

My Typical Day: Looking at photos of blades, meetings, writing reports, sometimes running some cool computer code

Read more

Get in about 8:15 have a chat with my workmate who has the same job as me. Drink a lot of cups of tea. Research and write a technical report. Look at pictures of blades and decide how to keep it in the best condition for the next few years. Have a meeting after lunch with people who do the same job in Hamburg (Germany) and Orlando (USA) to share interesting cases and learn from each other. Help teach a workmate how to use a computer model or system. Catch up on the work social network to find out what's new on site or with our customers. Head home around 5:00.

What I'd do with the money

Sponsor places on Headstart resisdential try-it-out courses for 17 year olds getting in to engineering

Read more

A Headstart visit to Durham Uni convinced me that Engineering what I wanted to get in to.  I'd like to sponsor places for students who wouldn't necessarily have this experience to get a good taster of what studying Engineering would be like.

http://www.etrust.org.uk/headstart-inspire-ris
My Interview

How would you describe yourself in 3 words?

Enthusiastic, Curious & Friendly

What's the best thing you've done in your career?

Been part of the UK offshore wind revolution in the past 5 years

What or who inspired you to follow your career?

Sheffield's (my home town) Steel history

What was your favourite subject at school?

Maths

What did you want to be after you left school?

I wasn't really sure until I was in 6th form but wanted to do something sciency & creative

Were you ever in trouble at school?

Not really - I spent a lot of time hiding away reading novels in breaks and ocassionally in class if it was REALLY dull.

If you weren't doing this job, what would you choose instead?

I'd be an outdoor pursuits instructor

Who is your favourite singer or band?

I don't have a favourite, but I'm going to see Tokio Myers at a Britain's Got Talent gig next month

What's your favourite food?

Sticky Toffee Pudding

What is the most fun thing you've done?

Thrown a massive surprise party for my Dad's birthday

If you had 3 wishes for yourself what would they be? - be honest!

To spend 6 months exploring the seas and highland springs of Scotland, that I'd be more decisive

Tell us a joke.

Why was 6 afraid of 7?..... Because 7 - 8 - 9.
My profile link:
https://millimetrem18.imanengineer.org.uk/profile/clarecausier/
---
---